LATEST NEWS & RUMORS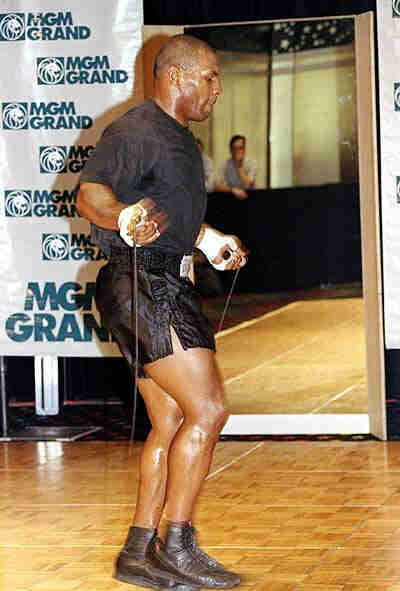 Iron Mike in training
---
Mike Tyson in the News
2001
July 28, 2001 - San Bernadino, California (Reuters) - Police are investigating a woman's allegations that former heavyweight boxing champion Mike Tyson sexually assaulted her in the California resort town of Big Bear City last week, officials said on Saturday. Police say the unidentified woman alleged that Tyson raped her on July 16 at a rented house in Big Bear, 70 miles east of Los Angeles, where he was training. They said she was treated at a local hospital and released. The New York Post quoted Tyson on Saturday as saying he did not know about the charge. ``I'm not familiar with any allegations,'' the boxer said. His lawyer, Darrow Soll, said the allegations were untrue. Beavers said police had not yet interviewed Tyson, who is in Phoenix, Arizona, continuing his training ahead of a fight against Danish boxer Brian Nielsen in Copenhagen on Sept. 8.
July 23, 2001 - Copenhagen, Denmark(Reuters) - Former heavyweight champion and the World Boxing Council's (WBC) No. 1 contender Mike Tyson is expected to meet Dane Brian Nielsen in Copenhagen on September 8, Nielsen's promoter Mogens Palle said on Monday. Danish tabloid Ekstrabladet said Tyson would get around $5.84 million, while Nielsen, who has a 62-1 record against relatively low-grade opponents, would make around six million crowns from the match. Palle declined to comment on the details of the contract. Nielsen was originally scheduled to meet champion Hasim Rahman in China in August. But promoter Don King later chose Nigerian David Izon as Rahman's opponent after media said Nielsen was flabby and dubbed him ``Danish pastry.'' Last month a U.S. District Court judge prohibited Rahman, who knocked out former title holder Briton Lennox Lewis in April, from fighting anyone else for the next 18 months unless he gave Lewis a rematch, which is now under negotiation.
June 19, 2001 - (BBC) Mike Tyson's camp have dismissed reports that the controversial fighter has signed a two-fight deal to meet Britain's Lennox Lewis. Earlier on Tuesday, Lewis' business manager Adrian Ogun had claimed that both sides had reached an agreement with television bosses to stage two lucrative bouts. However, Tyson's manager Shelley Finkel has described the statement as "premature" and hinted that Lewis' court case with new world heavyweight champion Hasim Rahman may be a potential stumbling block.
May 7, 2001 - (Washington Post) Like poker players, HBO and Showtime keep raising their bets on Hasim Rahman. And Baltimore's new heavyweight champion will decide whose hand -- or offer, in this case -- he likes more. That decision could come today.On the table for Rahman are deals that would set up his next bout with Mike Tyson (Showtime) or a rematch with Lennox Lewis (HBO). Rahman upset Lewis last month in South Africa, taking his World Boxing Council and International Boxing Federation title belts when he knocked out Lewis in the fifth round. Both networks are offering multi-fight deals that include extensions if Rahman wins his initial fight and allow "comeback" fights should he lose. Both deals allow Rahman to fight Lewis or Tyson -- whichever gets bypassed first -- in his second fight. HBO's offer is valued at about $14 million. Sources say Showtime's offer is about $16 million.
May 4, 2001 - (BBC) Mike Tyson has filed a lawsuit in a bid to challenge world boxing champion Hasim Rahman, the man who beat Britain's Lennox Lewis. The American fighter launched the legal fight at a US district court in Manhattan on Friday. Underdog Rahman sensationally knocked out Lewis in the fifth round of their clash in South Africa on 21 April to claim the WBC and IBF heavyweight titles. Lewis says Rahman is legally obliged to provide him with a quick rematch, but Tyson wants to fight the new champion first. There was a rematch clause in the Rahman-Lewis contract. And Lewis contends Rahman should fight no-one else before he fights him. Promoters HBO, which have a contract with Lewis, want the rematch to be held in September. When Rahman won, he inherited a WBC mandatory defence, which would be against Tyson, who is the WBC's number one contender. Tyson's adviser Shelly Finkel said the suit seeks to make the WBC conform to its rules, which, he said, forbids an automatic rematch. Tyson is scheduled to fight David Izon on 2 June at Washington DC on Showtime, which has a contract with Tyson. Rahman is not contracted to either HBO or Showtime. The Izon fight would be cancelled should Tyson get a shot at Rahman.
April 24, 2001 - (BBC) Former world heavyweight champion Mike Tyson could challenge for a world title as early as July. Tyson wants to fight new WBC, IBF and IBO heavyweight champion Hasim Rahman - and Rahman himself is also keen. While Lennox Lewis insists that Rahman is contractually obliged to make him his first defence, the champion himself sees things differently. Tyson's adviser Shelly Finkel has already made plans to meet Rahman's promoter, Cedric Kushner, to discuss the fight. American cable network Showtime, which has Tyson under contract, would like to see Rahman-Tyson take place on 21 July. With Iron Mike pencilled in to fight Nigerian David Izon in Washington on 2 June, there is little time for Tyson to recover and prepare properly by the proposed date. Finkel, however, does not see the Izon bout as an insurmountable hurdle.
April 23, 2001 - (The Times UK) Mike Tyson paid little attention to the Lennox Lewis bout in South Africa yesterday, instead choosing to attend a concert in Las Vegas. He may have thought that it was going to be a walkover or just did not care. Either way, the arguments about a Tyson-Lewis showdown, which could have been the richest bout in history, are academic, thanks to the right-hand bomb delivered by Hasim Rahman. It was a punch that has reshaped the heavyweight landscape. Tyson's return to the ring on June 2, against David Izon in Washington, was considered to be a warm-up bout for an eventual contest with Lewis. But his camp are now interested in a date with Rahman, the new World Boxing Council (WBC), International Boxing Federation (IBF) and International Boxing Organisation (IBO) champion.
April 22, 2001 - (BBC) Hasim Rahman shocked the boxing world by knocking out world heavyweight champion Lennox Lewis in five rounds. The American floored Lewis with a huge right hand and the Briton never seemed like beating the count. Rahman, a virtual unknown before this bout, takes Lewis' World Boxing Council and International Boxing Federation heavyweight titles. The result ranks as the biggest upset in the heavyweight division since Buster Douglas knocked out Mike Tyson in 1990.
April 19, 2001 - Washington, D.C (Washington Post)After more than a month of negotiations, a deal to stage Mike Tyson's next fight at MCI Center June 2 has been finalized. Tyson, the one figure in boxing who casts a shadow over the rest of the sport, will meet David Izon in a fight many are viewing as a tuneup for a fall megafight with Lennox Lewis.
April 12, 2001 - Washington, D.C. (Washington Post) Heavyweight Mike Tyson, boxing's most controversial figure, is likely coming to MCI Center for his next fight, June 2 against David Izon. Although negotiations were continuing in New York yesterday, Washington appears to be the favorite to land the heavyweight bout.
March 15, 2001 - (Washington Post) Former world heavyweight champion Mike Tyson will fight David Izon at MCI Center on May 19 pending the completion of contract and licensing issues, Tyson's adviser Shelly Finkel said yesterday.The 34-year-old Tyson, 49-3 with one no-decision, has been trying to negotiate a title fight with champion Lennox Lewis. Tyson's fight with Nigerian native Izon (27-3), ranked No. 9 by the World Boxing Association, is seen as a tuneup for Lewis.Lewis, meanwhile, will defend World Boxing Council and International Boxing Federation titles against Hasim Rahman of Baltimore on April 21.Finkel is working on gaining the proper licensing for a Tyson-Izon fight in Washington, but is concerned about the possibility of a conflict with the Washington Capitals, who might need the arena for a Stanley Cup playoff game. Finkel said USAirways Arena in Landover likely would be used as a backup site if MCI Center could not be secured.An official with Washington Sports & Entertainment said they had no knowledge of a match involving Tyson taking place at MCI Center.A Tyson-Izon fight would be promoted by America Presents, in name only, and televised by Showtime or the cable network's pay-per-view arm, SET.
March 8, 2001 - (BBC) Lennox Lewis and Mike Tyson have started negotiations for a showdown bout to be held this year. The two fighters issued an unprecedented joint statement on Thursday pledging to end their public posturing and make the multi-million-dollar fight the boxing world wants to see. Lewis is the reigning World Boxing Council and International Boxing Federation champion. Tyson is the former undisputed champ and leading contender. Lewis is currently training for a fight against Hasim Rahman in Johannesburg on 21 April. Tyson has a 19 May fight, with David Izon penciled in as his opponent. The stumbling block to a Lewis-Tyson fight is TV rights. Both fighters are signed to competing American networks.
March 5, 2001 - (BBC) Lennox Lewis has effectively ruled out any hope of a fight with former undisputed heavyweight champion Mike Tyson this year. Lewis, who holds two versions of the world heavyweight title, told the Daily Mail newspaper: "There's no chance of it taking place in the foreseeable future.
February 23, 2001 - (BBC) Lennox Lewis' proposed fight with Mike Tyson appears in serious doubt after a senior aide in the Lewis camp ruled out the possibility of a fight in the foreseeable future. The senior aide to the WBC and IBF champion told the Reuters news agency the major stumbling point remained the different television contracts of the two boxers. Lewis is two fights into a lucrative seven-fight deal with American cable channel HBO, while Tyson is tied to an agreement with rivals Showtime. The British boxer outlined strict regulations over the terms of any potential fight - especially the pay-per-view rights - which would make the fight the richest in boxing history. Lewis insisted the fight would have to be shown on HBO while Tyson would have to compensate Showtime out of his 50% share of the purse.
February 11, 2001 - (BBC) Mike Tyson is likely to fight Lennox Lewis this year, both boxers' camps have confirmed to the BBC. Lewis' management team have suggested 21 July as a date for the long-awaited bout with Tyson. Tyson's manager, Shelley Finkel, said that the former heavyweight world champion wanted the fight to go ahead. The Tyson camp is looking at a date around September, and says the boxer will have an earlier bout, probably in April.
January 16, 2001 - Detroit, Michigan (AP) -- Mike Tyson's boxing license in Michigan was suspended for three months and he must pay $205,000 for refusing to submit to a urine test before his Oct. 20 fight against Andrew Golota. The decision Tuesday will be honored by at least one important governing body outside Michigan -- the Nevada State Athletic Commission.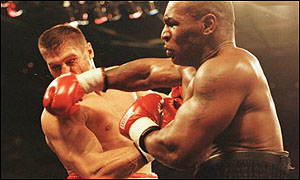 Golota eats some Tyson leather.
2000
October 21, 2000 - Auburn Hills, Michigan (Ticker) The 16,000 fans at The Palace and fight enthusiasts across the nation that paid to see heavyweights Andrew Golota and Mike Tyson tonight should have known better. Tyson blasted Golota with a series of overhand rights in the first two rounds, and the troubled Polish giant refused to answer the bell for the third, drawing the ire of the capacity crowd and once again disgracing himself and the sport of boxing. Officially ruled a third-round technical knockout, the fight was virtually over before it started. Golota (36-5) delayed his entrance to the ring when he refused to don the Everlast boxing gloves that the Michigan Boxing Commission had sanctioned for the 10-round, non-title bout. When he finally relented and entered the ring, the bout began with Tyson taking the initiative. The former two-time heavyweight champion had little trouble connecting with a steady dose of vicious overhand rights, flooring Golota with a devastating short right in the waning moments of the first round. Tyson (49-3, 1 NC, 43 KOs), who entered this fight claiming it would be his last, kept up the attack in the second round, drawing blood from a small cut above Golota's left eye. When the second round ended, Golota trudged back to his corner and refused to take instructions from trainer Al Certo. When the bell rang for the third round, Golota refused to take his mouthpiece despite the pleading of his cornermen. He stalked away from the ring as the crowd barraged him with their beverages.
October 21, 2000 - (Fightnews.com) In a minor controversy that would soon be dwarfed by Golota's tank job, Main Events announced earlier in the evening that Golota would be fighting under protest. Although this was not a championship fight, the Michigan officials accorded Tyson champion treatment by allowing him to impose his choice of gloves on Golota. Reyes was Golota's choice, but Tyson was able to force him to wear Everlast. In non-title fights, fighters are usually either allowed to wear different gloves or flip a coin to decide which brand will be worn. Michigan did not have a rule to apply. Golota offered to toss a coin to settle it, but Tyson refused, and the commission backed him, apparently because Tyson's promoter, America Presents, was listed as the lead promoter.

August 8, 2000 - (BBC) Mike Tyson could make a return to Asia as he bids to set up a big money bout against reigning heavyweight champion Lennox Lewis. Tyson's promoters are in talks to stage fights next month in Detroit, and in November at Hong Kong against Poland's Andrew Golota. The former champion, whose boxing downfall began with his shock loss in 1990 to Buster Douglas in Japan, could then fight again in January in Malaysia.
June 24, 2000 - Glasgow (Ticker) - In front of a rain drenched crowd at Hampden Park, Tyson provided European fans a glimpse of his glorious past by destroying Lou Savarese in less than 40 seconds. Tyson decked the fringe contender with his first punch 10 seconds into the fight and Savarese never recovered. After two more left hooks, referee John Coyle stepped in and stopped the bout 38 seconds into the contest. The former undisputed champion improved to 48-3 following his 42nd knockout. He inched closer to a title bout with IBF and WBC heavyweight champion Lennox Lewis and again proved to be a drawing card as more than 50,000 fans braved awful weather to see the youngest heavyweight champ ever.
June 20, 2000 - London (AP) - Mike Tyson called of a public workout Tuesday and went for a walk instead, signing autographs along the way and bowing to a bus driver. The former champion also called off a news conference leading to Saturday's bout with Lou Savarese in Glasgow, Scotland. He worked out in private at his hotel after his stroll. Tyson is to travel to Glasgow on Wednesday to complete preparations for the bout at Hampden Park stadium.
June 18, 2000 - London (Reuters) - Former world heavyweight boxing champion Mike Tyson arrived at London's Heathrow airport on Sunday ahead of a controversial bout against fellow American Lou Savarese in Scotland next week. Wearing a black and white open necked shirt and dark trousers, Tyson arrived on a Concorde flight from New York and had his documents checked onboard the plane by immigration officials. A car met him on the tarmac and took him to London. Tyson made no comment to reporters.
June 16, 2000 - London (Reuters) - Mike Tyson's controversial bout with fellow American Lou Savarese cleared its final hurdle on Friday after the Scottish venue for the June 24 was given a safety certificate. The decision to approve Glasgow's Hampden Park stadium clears the way for the former heavyweight champion to fly into London on Sunday.
June 14, 2000 - London (Reuters) - Mike Tyson has delayed his departure to Britain for the upcoming fight with Lou Savarese to attend the funeral of a close friend in New York, a fight spokesman said Wednesday. Tyson had been scheduled to fly in on Wednesday for the fight on June 24 at Glasgow's Hampden Park but the spokesman for promoter Frank Warren's Sports Network said the American would now arrive later in the week.
- June 9, 2000 - Former heavyweight champion Mike Tyson is taking a medically prescribed drug to balance chemicals in his brain, according to co-trainer Jay Bright. Bright says Tyson, who is scheduled to fight Lou Savarese in Glasgow, Scotland, on June 24, began taking the medication at the advice of doctors linked to the Nevada State Athletic Commission.
- June 2, 2000 - A women's anti-rape group lost an appeal Friday to bar Mike Tyson from entering Britain for a June 24 fight against Lou Savarese. The Court of Session in Edinburgh rejected the appeal from the Glasgow Rape Crisis Center to overturn last month's decision by Home Secretary Jack Straw to let the former heavyweight champion enter the country.
- May 25, 2000 - New York, NY (Showtime) - Former two-time undisputed heavyweight champion Mike Tyson will make a return trip to Europe on Saturday, June 24, 2000, when he takes on former United States Boxing Association (USBA) and International Boxing Association (IBA) heavyweight champion Lou Savarese in a scheduled 10-round bout at National Stadium - Hampden Park in Glasgow, Scotland. The fight card is promoted by Sports Network, Europe. America Presents, which recently extended its contract as Tyson's promoter, will step aside for this bout to allow Sports Network Europe to serve as promoter of this European event.
-March 11, 2000 - Tyson will fight Lou Savarese on May 20 in a match that will be televised on a six-hour delay in the United States, beginning at 10 p.m. EST, Jay Larkin, head of boxing for Showtime, said Friday, March 10.
- January 30, 2000 - Mike Tyson took just four minutes to emerge victorious from his first appearance on British soil. British champion Julius Francis lasted until the second round, but not beyond the 243rd second of the fight in Manchester. Francis simply could not cope with the American's performance and was knocked down four times before referee Roy Francis stopped the bout in front of the sell-out crowd.
A pensive Tyson.
1999
- December 8, 1999 - One of Mike Tyson's assistants insists that ferrets housed at the boxer's home have never been abused, as a ferret rescue volunteer has alleged. Clark County animal control investigators are probing the death of one ferret and injuries to another at the former heavyweight-boxing champion's Las Vegas home last month.
- November 23, 1999 - Lennox Lewis is considering numerous fight offers from around the world, but Britain's undisputed heavyweight champion has declared, "I'd love to fight Mike Tyson as I am undisputed world champion. He is a boxer of my era."
- October 24, 1999 - Boxing authorities are withholding Mike Tyson's $10 million purse pending a review of his fight against Orlin Norris which was stopped after the first round. The bout at the MGM in Las Vegas was ruled a no-contest when the former heavyweight world champion knocked his opponent down after the bell ended the round. The no-contest was declared due to an accidental foul, although it remains possible that video evidence will see 33-year-old Tyson disqualified.
Home My Corner Biography Ring Record