MIKE TYSON'S
RING RECORD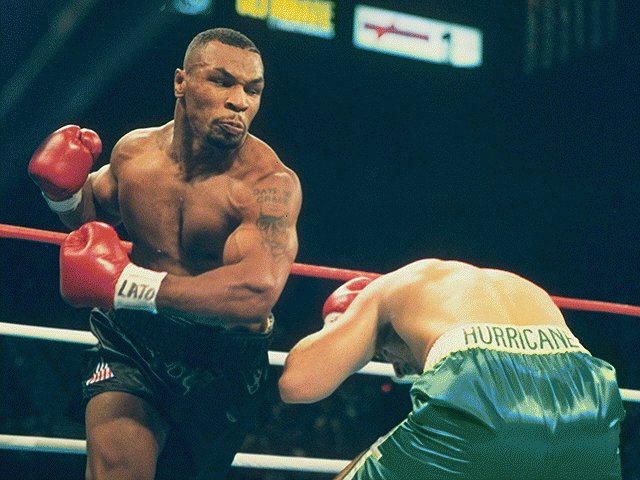 Tyson throwing bombs at a bewildered Peter McNeeley.
---
QUICK FACT #1: In 1986 Mike Tyson became the youngest heavyweight champion in boxing history, surpassing the record of former heavyweight champion Floyd Patterson. Tyson was 20 years, 4 months and 22 days old.
QUICK FACT #2: The average Mike Tyson fight lasts just over three rounds.
QUICK FACT #3: Mike Tyson once KO'd an opponent leaving him with a fractured jaw, a fractured cheekbone and five missing teeth.
49-3, 1 NC (43 KO's)
| | | |
| --- | --- | --- |
| Date | Opponent | Results |
| March 6, 1985 | Hector Mercedes | Tyson KO 1 (1:47) |
| April 10, 1985 | Trenton Singleton | Tyson KO 1 (0:52) |
| May 23, 1985 | Don Halpin | Tyson KO 4 (1:06) |
| June 20, 1985 | Ricardo Spain | Tyson KO 1 (1:39) |
| July 11, 1985 | John Alderson | Tyson KO 2 (3:00) |
| July 17, 1985 | Larry Sims | Tyson KO 3 (0:24) |
| August 15, 1985 | Lorenzo Canady | Tyson KO 1 (1:05) |
| September 5, 1985 | Michael Johnson | Tyson KO 1 (0:39) |
| October 9, 1985 | Donnie Long | Tyson KO 1 (1:28) |
| October 25, 1985 | Robert Colay | Tyson KO 1 (0:37) |
| November 1, 1985 | Sterling Benjamin | Tyson KO 1 (0:54) |
| November 13, 1985 | Eddie Richardson | Tyson KO 1 (1:17) |
| November 22, 1985 | Conroy Nelson | Tyson KO 2 (0:30) |
| December 6, 1985 | Sammy Scaff | Tyson KO 1 (1:19) |
| December 7, 1985 | Mark Young | Tyson KO 1 (0:50) |
| January 11, 1986 | David Jaco | Tyson KO 1 (2:16) |
| January 24, 1986 | Mike Jameson | Tyson KO 5 (0:46) |
| February 16, 1986 | Jesse Ferguson | Tyson KO 6 (1:19) |
| March 10, 1986 | Steve Zouski | Tyson KO 3 (2:49) |
| May 3, 1986 | James "Quick" Tillis | Tyson W 10 |
| May 20, 1986 | Mitch Green | Tyson W 10 |
| June 13, 1986 | Reggie Gross | Tyson KO 1 (2:36) |
| June 28, 1986 | William Hosea | Tyson KO 1 (2:03) |
| July 11, 1986 | Lorenzo Boyd | Tyson KO 2 (1:43) |
| July 26, 1986 | Marvis Frazier | Tyson KO 1 (0:30) |
| August 17, 1986 | Jose Ribalta | Tyson KO 10 (1:37) |
| September 6, 1986 | Alfonso Ratliff | Tyson KO 2 (1:41) |
| November 22, 1986 | Trevor Berbick | Tyson KO 2 (2:35) - Gains WBC Heavyweight Title |
| March 7, 1987 | James "Bonecrusher" Smith | Tyson W 12 - Gains WBA Heavyweight Title |
| May 30, 1987 | Pinklon Thomas | Tyson KO 6 (2:00) |
| August 1, 1987 | Tony Tucker | Tyson W 12 - Gains IBF Heavyweight Title |
| October 16, 1987 | Tyrell Biggs | Tyson KO 7 (2:59) |
| January 22, 1988 | Larry Holmes | Tyson KO 4 (2:55) |
| March 21, 1988 | Tony Tubbs | Tyson KO 2 (2:54) |
| June 27, 1988 | Michael Spinks | Tyson KO 1 (1:31) |
| February 25, 1989 | Frank Bruno | Tyson KO 5 (2:55) |
| July 21, 1989 | Carl "The Truth" Williams | Tyson KO 1 (1:33) |
| February 11, 1990 | James "Buster" Douglas | Douglas KO 10 (1:23) - Loses IBF, WBA, WBC Heavyweight Titles |
| June 16, 1990 | Henry Tillman | Tyson KO 1 (2:47) |
| December 8, 1990 | Alex Stewart | Tyson KO 1 (2:27) |
| March 18, 1991 | Donovan "Razor" Ruddock | Tyson KO 7 (2:22) |
| June 28, 1991 | Donovan "Razor" Ruddock | Tyson W 12 |
| August 19, 1995 | Peter McNeeley | Tyson W Disq. 1 (1:29) |
| December 16,1995 | Buster Mathis Jr. | Tyson KO 3 (2:32) |
| March 16, 1996 | Frank Bruno | Tyson KO 3 (0:50) - Regains WBC Heavyweight Title |
| September 7,1996 | Bruce Seldon | Tyson KO 1 (1:49) - Regains WBA Heavyweight Title |
| November 9, 1996 | Evander Holyfield | Holyfield TKO 11 (0:37) - Loses WBA/WBC Heavyweight Titles |
| June 28, 1997 | Evander Holyfield | Holyfield W DISQ. 3 (3:00) |
| January 16, 1999 | Francois Botha | Tyson KO 5 (2:59) |
| October 23, 1999 | Julius Francis | Tyson KO 2 (1:57) |
| January 29, 2000 | Orlin Norris | No Contest Round 1 (3:00) |
| June 24, 2000 | Lou Savarese | Tyson KO 1 (0:38) |
| October 21, 2000 | Andrew Golota | Tyson TKO 3 (3:00) |
Home My Corner Biography Latest News